The question I probably get asked most when I discuss pitching television and radio ideas is, "As a freelancer, how can you be sure they won't be stolen by those you pitch them to?"
And I usually reply, "You can't."
"But," I continue after a suitably melodramatic pause, "if you don't pitch them you definitely won't get them commissioned."
And there, of course, lies the rub.
I was reminded of this do-I-don't-I? dilemma over Christmas when I spotted an on-air promo for an RTÉ television documentary due to go out over the festive break that I'd unsuccessfully pitched to them almost three years ago.
I could've hit someone.
When I calmed down a few minutes later I realised it was actually only a variation on my idea.
It was based on the same pivotal event, but while this new one concentrated on it almost totally, mine would have also used it as a stepping off point to look at a whole host of other equally interesting connected events and elements.
And after a discreet query to someone involved I found out it had been commissioned by a different individual in RTÉ than the one I'd sent mine to, who, in fairness, in 2013 had been interested, but when BBC co-production funding failed to materialise knocked it on the head because of budgetary considerations.
Hugely frustrating but them's sometimes the breaks.
And it wasn't the first time where an idea I'd pitched turned up somewhere else.
It is, in fact, the nature of the business.
I was having a meeting with an exec producer in a very large independent production in London about 10 years ago when they mentioned they were making a certain documentary for Channel 4.
Not only that, but it was just one in a similarly-themed series of four documentaries they'd had commissioned.
"But hang on," I said, "I pitched that idea to Channel 4 six months ago and got nowhere with it. What the f**k?"
Turns out I'd pitched it to one – the obvious – person there who'd rejected it while they'd pitched it to someone else less obvious who not only liked it, but asked if they could come up with some other related ones to slot around it.
I was gobsmacked. But what could I do except shrug my shoulders resignedly.
In fact, kind soul that I am, not only did I take this defeat gracefully, I even gave them contact details for someone they'd been ineffectively trying to rope in as a contributor for ages, my proposed presenter, Public Enemy's Chuck D, no less.
Yeah, I know, I'm just too nice.
A few years ago I saw a programme that was but a very slight variation on one I'd made a couple of years before on that broadcaster's sister channel.
It was enough of a variation to make it not my idea.
Though it did gall somewhat that it was made by the same production company I'd made mine with.
A phone call would've been nice. And maybe even the offer of a gig on it. But hey, what can ya do?
One of the early ideas I had during my time in London was based on a UN report I'd spotted sometime in the early 2000s on global maternal childbirth deaths.
I took the proposal to a production company I knew had a track record in this area and they pitched it to potential commissioning editors at the BBC and Channel 4.
Sadly nothing came of it.
Then some months later, up popped a BBC Panorama episode on…?
Yup, global maternal childbirth deaths.
My immediate reaction was to cry foul. But of course I wasn't the only one to have seen that UN report and any Panorama researcher worth their salt would have too.
Case – probably – closed.
One final story.
About a year after arriving in London, I pitched an idea into various UK TV channels via a mate's production company based on unique access I'd got to two fascinating characters.
Unfortunately no one bit.
So, as a last ditch effort I took the idea myself to a unit at the BBC who made their own programmes internally, aware that they were probably fully staffed and uncertain if there might be work in it for me.
But there was only one way I thought to find out.
As it happens, this BBC unit were indeed interested in my idea.
But, like me, they were themselves unsure what, if anything my role might be should anything come of it.
We figured we'd cross that bridge when or if we came to it. Whether there was an actual documentary in it for them would largely depend on how our two main characters performed on camera so I gave them my blessing to get the ball rolling and they promised to keep me in the loop.
Some months later I was in the BBC recording a voiceover for a BBC Education programme I was presenting. Afterwards the producer asked me what else I was at and in among the many possible gigs that I was hustling I told her about this afore-mentioned idea.
Much to my surprise she said that it was already in production.
She'd had coffee only that morning with one of the unit's producers who'd mentioned it as one of the projects he was then working on.
She picked up the phone and rang him, telling him I was sitting beside her but had no idea it had already been green lit.
He was horrified and after a quick chat during which he assured me I hadn't been deliberately ignored, promised he'd get back to me.
He did. And his explanation was actually quite innocent…and believable: the original producer who was looking after the story had been promoted and handed filming over to him; she had assumed he'd stay in touch with me, he'd assumed she would.
In the end, it seems, neither did.
A few days later I was ushered into the head of the unit's office where he put his hands up and admitted they'd cocked up.
After half an hour I walked out with the promise of a substantial cheque.
It wasn't a gig but it wasn't half bad.
Ok, so it's never happened to me, but I have heard plenty stories over the years of ideas being nicked so undoubtedly it happens.
How then can you avoid it happening to you?
Start with taking your ideas to someone you trust. If you don't know anyone, ask folk who might and see who they recommend.
Keep a paper and/or electronic trail. If you're going to claim an idea is yours, you'll need proof.
And remember, there's a very important difference between ideas and formats; my understanding is that neither are actually copyrightable, but at least with the latter there is some legal, albeit complex and often tenuous, protection.
So, for example, in 2003 Discovery commissioned an idea of mine on the history of war journalism, Reporters At War.
To be honest, I was surprised it hadn't been done before as it's an idea anyone else could have had. We were just lucky: we got there first.
But someone could at any time produce their own version. In fact, BBC international correspondent, Jeremy Bowen did a personal take on the topic for the BBC not very long after us.
Likewise, the first ever TV documentary I produced and directed was Sleep With Me, a look at what it's like to share a bed every night in a relationship, for Channel 4's First Cut strand in 2007.
I pitched RTÉ an Irish version as I was wrapping production that autumn but they passed.
A few years later, a documentary based on the same premise turned up on the BBC.
And RTÉ eventually got round to commissioning their version in 2012.
Some ideas really are just floating around in the air.
On the other hand, You Couldn't Make It Up, which we made for Newstalk in 2012/13, is a specific comedy news panel format that has a series of regular, repeatable, easily identifiable moments that occur in each show.
If a direct copy appeared anywhere its producer would have a helluva job trying to argue it wasn't a rip off.
On the other hand, copycat formats of successful shows that change just enough to make them 'different' are ten a penny so protecting your precious jewel rarely is straightforward.
Going back to my opening paragraph, it's usually those just starting out in the business who ask me about the dangers of someone stealing their ideas.
In fairness, this is probably when it's most likely to happen; when you're naïve, unsure, unconnected, relatively powerless and, if it did happen, undoubtedly unable to do anything about it.
Then if you kick up a fuss, there's always the worry you'll get a reputation as being difficult.
Those who might steal your idea are only too aware of this.
But even longer-serving members of the media business know that they too have to be careful if they think someone's pilfered their ideas locker.
They know they may well have to work with the company or organisation they think has ripped them off sometime in the future – they may even be working for them now – so they have to consider if they really want to bite the hand that feeds.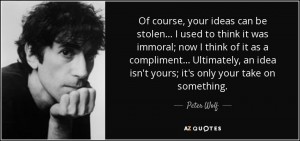 So what it the tables were turned?
I've occasionally wondered might I ever become the baddie if someone came to me with a really great idea that I felt confident I could get commissioned without having to involve them.
To date I've always come to the same conclusion.
Why would I steal their idea for mere short term gain when it's likely that if they've one good idea now, they'll probably have loads more in the future that we could potentially collaborate on?
And that's the logic I hope to encounter every time I take an idea to a production company or a broadcaster.
So far – I think – so good.