In an era when physical records – mainly vinyl, but also CDs and even cassettes – are making an against-the-streaming-tide comeback worldwide, in For The Record, a brand new and unique format for RTÉ Gold, which was on air for seven Sundays from November 6th 2022, I visited the seven homes of eight Irish celebrities – yes, there's a couple in there somewhere – who, like me, have over the years amassed significant hard-copy record collections.
While rummaging through their shelves I heard the music from and the stories behind not only their first, favourite and most recent acquisitions, but also any regrettable impulse buys and howling misjudgements, all the while discussing the varying importance of music to them at different points in their lives and the joy collecting and playing records has brought them.
I've worked on numerous music shows before this, including producing and presenting the Access All Areas music-business series on RTÉ Radio 1, filling in on, and later producing, RTÉ 2fm's Dave Fanning Show, and presenting Feile TV for RTÉ and Witnness TV for TV3 (now Virgin Media). I bought my first 7" single – Quick Joey Small (Run Joey Run) by The Real McCoy – in 1969 for 7s 6d. I still have it.
For The Record is the first BAI-funded production on RTÉ Gold. Over its seven episodes, my guests are:
Episode 1:

Bronagh Gallagher: Derry-born singer and actress who shot to fame in 1991 as Bernie McGloughlin in Alan Parker's The Commitments and has since starred in numerous international movies and TV dramas and released three solo albums and a handful of singles and EPs. Her collection of mostly vinyl includes everything from Aretha Franklin and Muddy Waters to Sharon Van Etten and Mink & Willy DeVille.
Episode
2:
Neven Maguire: Celebrity chef from Blacklion, County Cavan, where he is also the head chef and proprietor of the MacNean House and Restaurant and runs his own cookery school. He has published several cookbooks and features regularly on television and radio. It might surprise many that Neven is a huge 1990s' and early 2000s' dance music aficionado with a huge 12′ collection and has his own decks set up at home.
Episode 3:

Lilian Smith: Cork city native and now weekend presenter of Rising Time on RTÉ Radio 1, her collection includes lots of Bowie, Beatles and upcoming Irish acts – and maybe even some U2.
Epis
ode 4:
Aidan Gillen & Camille O'Sullivan: He's an internationally renowned actor, known for appearances in Love/Hate, Game Of Thrones, Kin, Peaky Blinders, Charlie and The Wire, amongst others. She's a singer known for her unique take on songs by artists such as Radiohead, Tom Waits, and Nick Cave. Both have their own diverse musical tastes and one of them is the proud owner of a vintage working jukebox full of mostly crackin' 1970s and '80's punk and new wave 45s.
Episode 5: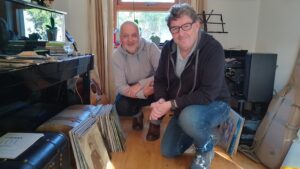 Mike Hanrahan: Singer-songwriter and guitarist – and occasional chef – from Ennis, County Clare who has worked solo, with Ronnie Drew, Leslie Dowdall and Maura O'Connell, and of course Stockton's Wing. A fan of Scullion and Horslips, but also jazz and opera.
Episode 6:

Eleanor Shanley: One of the country's finest singers, both solo and over the years as a member of or in collaboration with the likes of De Dannan, Ronnie Drew, Mike Hanrahan, Sharon Shannon, Donal Lunny and U2, Galway is now home to this Leitrim native. Her record collection may not be massive but it is beautifully formed, full of gems from Paul Simon to Nina Simone to Mick Hanly.
Episode 7:

Luke O'Neill: For many, the voice of the Covid19 pandemic as the media-friendly professor of biochemistry in the School of Biochemistry and Immunology at Trinity College Dublin, he also fronts the covers band, The Metabollix, alongside occasional member, RTE's European Editor, Tony Connelly. Expect everything from The Beatles to Beethoven, prog to punk and lots before, between and since.
For The Record – whether the 55′ broadcast versions or their longer extended-mix cuts – can be listened to anywhere in the world live via the RTÉ Gold website here: https://www.rte.ie/radio/gold/ or via the usual-suspect internet radio apps and smart TVs and speakers.
RTÉ Gold, 'The Greatest Hits of All Time', is an RTÉ digital-only classic music radio station available on smartphone/speaker, digital TV and online.
I produced For The Record for RTÉ Gold funded by the BAI Sound & Vision Fund.
Production credits:
Me: producer, presenter, editor
Damien Clifford: sound recordist
Aidan Leonard: RTÉ Gold executive producer